Bernie Sanders on Children
Before his political career, Bernie Sanders taught low-income preschoolers through the Head Start program. Due to this experience, and his commitment to fighting structural causes of wealth and income inequality, Bernie knows that children born into poverty and other difficult situations often do not have easy access to resources that could help them live a happy and productive life. Bernie believes that all children deserve a quality education, affordable healthcare, affordable childcare, and access to nutritious food.
Childhood Poverty: Combat poverty among children by increasing access to social safety net programs that address the roots of systemic economic inequities.
Affordable Child Care: Good child care is essential and far too costly. Every working family should have access to good, affordable child care.
Early Childhood Education: States should receive funding for universal pre-kindergarten programs and full-day kindergarten, as the early years are the most important stage in human development.
Nutrition: In our land of plenty, every child has the right to nutritious food regardless of his or her family's economic situation.
Childhood Poverty
The social safety net needs to be strengthened so that fewer children are forced to live in poverty. Bernie wants to protect the most vulnerable among us — poor children — by expanding Social Security, Medicare, Medicaid and nutrition programs as well as offering a quality education.
How bad is child poverty in America?
In the United States, more than 20 percent of children under 18 are living in poverty. America has one of the the highest rates of child poverty in the developed world: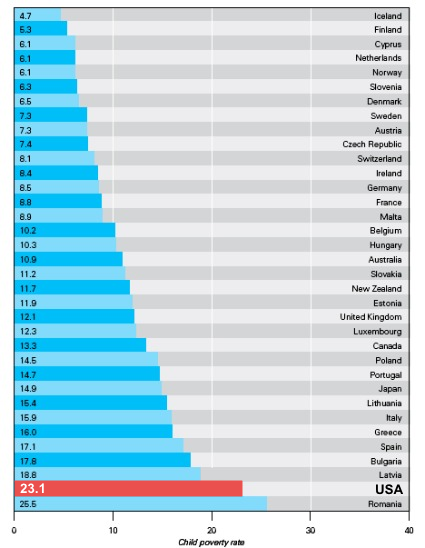 How does poverty affect children?
A 2013 National Assessment of Educational Progress (NAEP) study shows that students who are eligible for free and reduced-price lunch based on their families' income fare a lot worse on tests than kids whose families make more money. While test scores are only one indicator of a quality education, it's clear enough that a child who is raised in a family where food and money — not to mention time, as parents may be working multiple jobs to make ends meet — are scarce is more likely to grow up in an environment where a focus on studies is not or cannot be prioritized. And given that educational attainment is tied to poverty in adulthood, kids who are hungry and poor — 17 million U.S. kids are estimated to be malnourished — kids who can't get ahead are likely to grow up to be adults who can't get ahead either.
Where does Bernie stand on addressing poverty?
Bernie has said:
"[W]e have the highest rate of childhood poverty of any major country. We must strengthen the social safety net, not weaken it. Instead of cutting Social Security, Medicare, Medicaid and nutrition programs, we should be expanding these programs."
Learn more about Bernie's policies around expanding the social safety net for children and working families here.

Affordable Child Care
Child care should be more affordable and of higher quality.
Why do we need affordable child care?
Given that most American parents must work in order to provide for their families, there must be consistent access to child care. But according to Child Care Aware's 2012 report, the average annual cost for infant care in most of the United States is higher than a year's in-state tuition plus related fees at a four-year public college.
What has Bernie said about the need for quality affordable child care?
Bernie supports high-quality and affordable education initiatives for all families:
"[W]ith both parents now often at work, most working-class families can't locate the high-quality and affordable child care they need for their kids. Quality education in America, from childcare to higher education, must be affordable for all. Without a high-quality and affordable educational system, we will be unable to compete globally and our standard of living will continue to decline."
While speaking during a roundtable with the Every Child Matters Education Fund, Bernie called America's lack of a child care system "a disaster". Watch him discuss call for a "revolution" in child care:
Learn more about Bernie's record on and proposed policies to help working families here.

Early Childhood Education
We should be investing in children at the very first stages of their lives. Early childhood education is a massively important plank in Bernie's candidacy. A former preschool educator, he has said that in a society with our number and quality of resources, "it is unconscionable to that we do not properly invest in our children from the very first stages of their lives."
How does the United States rank with regards to childhood education?
Out of 36 countries, the U.S. is ranked 17th for reading literacy, 27th in mathematical literacy, 20th in science literacy, and 18th overall in secondary education. From 1960 to 2006, the United States fell from first place to 18th out of 24 industrialized nations. If we had closed this gap, our 2008 GDP would have increased by $2.3 trillion.
What has Bernie done to address access to early childhood education?
In 2011, Bernie introduced the Foundations for Success Act, which would have awarded a grant to ten states allowing them to create an Early Care and Education System. The bill, had it passed, would do the following:
"(A) provide all State residents with the opportunity to enroll children, ages 6 weeks to kindergarten, in an early care and education program on a full time basis;
(B) provide access to an early care and education program that gives each child an opportunity to develop physical, social, and emotional skills; and
(C) improve school readiness by contributing to the cognitive development, character skills, and physical development of each child."
Learn more about Bernie's education policies beyond early childhood at the Education issue page.

Nutrition
Bernie believes that Americans who truly need assistance should not be denied access to the Supplemental Nutrition Assistance Program (SNAP). In 2012, he voted against limiting eligibility and bonuses for SNAP.
How essential is nutrition for child development?
Very. Nutritious food is essential for all people but particularly growing children. Access to healthy, balanced food (or the lack thereof) can define a person's life. In fact, undernourished kids are likelier to face health issues, have trouble with cognition and academics, and develop behavioral and emotional problems.
How many kids live in food-insecure households in America?
At least 16.2 million kids don't get enough nutrient-rich foods on a daily basis in our land of plenty, according to the U.S. Department of Agriculture.
What about fixing the budget and addressing our deficit?
During the 2015 fiscal year, 53.71 percent of discretionary spending went to the military, which amounts to $598.49 billion. Compare that to the $76 billion allocated to SNAP in 2014. Then consider estimates that 25 percent of millionaires pay less taxes than the middle-class. A recent study showed how lowering taxes for the wealthy can affect the economic status of a country.
So who is receiving food stamps?
About 45 percent of all recipients are children. You care about kids, right? Well, the SNAP for Women, Infants, and Children (WIC) is an essential program leads to healthier infants, more nutritious diets, and better health care for children. Additionally, disabled individuals make up 19.8 percent, senior citizens count for 8 percentwhile adults without children who are not disabled make up for 23.6 percent.
In other words, these are your neighbors.
What else can people spend food stamps on?
SNAP beneficiaries are only allowed to buy household foods and seeds for gardening. Meaning, they cannot buy: alcohol, cigarettes, tobacco, non-food items, supplements, medicines, hot foods, and restaurant or fast-food meals. In many cases, for those who live in a poverty-stricken area, access to fresh produce is limited.
What does Bernie have to say about it?
Bernie has spoken out against the reduction of food stamps: "At a time when the richest people in this country are becoming richer and the middle class is disappearing, it is beyond shameful to cut food programs and nutrition programs."
And in an online interview Bernie addressed the fact that in America today there are "about 46 and a half million people in this country living in poverty. Many people have experienced lower wages. People are working 40/50 hours a week. They're living in poverty… 22 percent of our children are living in poverty."
You can learn more about Bernie's support for these and related programs at the Public Assistance issue page.