Bernie Sanders on Immigration
Bernie Sanders has said that we are a "nation of immigrants. That is, in fact, the strength of America." Given this view, he believes the United States must create an immigration system that invites greater innovation, diversity, and economic opportunity for both American-born citizens and the people who want to make this land their home. Bernie supports immigration reform that will address the legal status of the 11 million undocumented people in our country, protect American jobs by way of visa reform, secure the border, and protect undocumented workers from labor exploitation.
Path to Citizenship: We ought to provide a path to citizenship for people from many different countries.
DREAM Act: Supports the path toward permanent residency for young, undocumented immigrants.
Visa Reform: Reject the exploitation of workers and the use of visas for cheap, foreign labor. Increase opportunities for qualified individuals to take steps towards permanent residency.
Border Security: We can and must secure borders without building a fence.
Path to Citizenship
Bernie believes that the United States should reform its immigration policy to create a path to legal status, and, in some cases, citizenship. Bernie supported the DREAM Act, and comprehensive immigration reform efforts in 2013 that would have created a path to legal status. Additionally, Bernie supports waiving deportations for some groups of immigrants, such as those brought into America by their parents when they were children.
Why do people want to be citizens of the United States?
Being a citizen can benefit the person as well as the larger U.S. economy. For instance, naturalized immigrants earn more in wages after becoming a citizen. In the first two years after becoming a citizen, wages increase 5.6 to 7.2 percent, while after 12 years of citizenship, earnings increase up to 10.1 to 13.5 percent. For United States, the increase in wages can also assist in growing the overall economy.
How has Bernie been personally impacted by immigration?
His father was a Polish immigrant who arrived in the United States at a young age:
"[He arrived] at the age of 17 without a nickel in his pocket, without much of an education, without knowing the English language… like immigrants before and after he worked hard to give his family a better life here in the United States."
Bernie believes that all Americans have a connection, in some way, to immigrants and we should be proud of that:
What is Bernie's stance on reforming the path to citizenship?
Bernie is very concerned with the exploitation of undocumented workers and their standard of living. He believes that such immigrants "have been routinely cheated out of wages, held virtually captive by employers who have seized their documents, forced to live in unspeakable inhumane conditions and denied medical benefits for on-the-job injuries."
In a July 2015 speech, Bernie highlighted that "undocumented workers are doing the extremely difficult work of harvesting our crops, building our homes, cooking our meals, and caring for our children. They are part of the fabric of America."
Given that Bernie believes undocumented workers are already part of the nation's "fabric," they should have a path to citizenship that will allow them to be fully participating members of American society and contributors to its economy.
"Bringing undocumented workers out of the shadows will make it more difficult for employers to undercut the wages and benefits of all workers."
What has Bernie supported for immigration reform?
While Bernie strongly supports reasonable immigration reform, he does not side with "the Republican alternatives of self deportation or some other draconian non-solution."
In 2001, Bernie supported the Posthumous Citizenship Restoration Act of 2001, which would extend the deadline for a person's death to be granted citizenship if they had died on active-duty military service. The same year, he supported the Secret Evidence Repeal Act of 2001, a bill that would enforce better treatment of undocumented immigrants in court including requiring that, in any immigration proceeding, defendants be given advance notice of any evidence being used against them.
A few years later, Bernie supported amending the Immigration and Nationality Act. This act would "confer automatic citizenship on aliens" living in the United States with preference being given to people born in Korea, Vietnam, Laos, Kampuchea, or Thailand between 1950 and 1982.
In 2013, Bernie showed his support for the Senate Judiciary Committee after they drafted an immigration reform bill which would "provide a path to citizenship for 11 million immigrants in the United States and help their children become citizens." That same year he co-sponsored the Uniting Families Act of 2013, which would allow partners of any legal U.S. citizen or resident to obtain lawful permanent residency. This bill was primarily intended to give LGBTQ citizens the same right given to straight citizens to bring their partners into America.
Bernie has received an A on the Alliance for Citizenship's scorecard, showing that he has supported DREAMers and voted against ending the Deferred Action for Childhood Arrivals (DACA). Bernie supports DACA, believing it is a "good first step, but should be expanded."
DREAM Act
The DREAM Act is legislation aimed at giving young, high-achieving, undocumented immigrants a pathway to permanent residency in the United States provided they pursue higher education or serve two years in the military. Bernie strongly supports the DREAM Act and is enthusiastic about the possibility of providing a pathway to legal status for talented, hard-working young people.
What is the DREAM Act?
The Development, Relief, and Education for Alien Minors (DREAM) Act would grant conditional resident status to people who entered the United States before the age of 16, who graduate from a U.S. high school, and meet a few other requirements. Those who additionally serve in the U.S. military or attend college or university for at least two years could be eligible to receive permanent resident status.
How has Bernie supported the DREAM Act?
Bernie strongly supports the DREAM Act. In a 2015 speech, Bernie shared his approval of the DREAM Act as a way to recognize "American kids who deserve the right to legally be in the country they know as home."
In the same speech Bernie promised that if Congress did not pass comprehensive immigration reform, if elected President, he would use executive powers to provide "deportation relief to the parents of U.S. citizens, legal permanent residents and so-called DREAMers."
Bernie supported the DREAM Act in 2007, and in 2009 he supported an amendment that would make it possible for undocumented immigrants to receive higher education benefits based on their state residence. In 2011, Bernie co-sponsored the reintroduction of the DREAM Act.
In 2014, Bernie criticized Obama for not doing more for DREAMers with his powers of executive action.
Visa Reform
Bernie believes that while visas provide opportunities for foreign citizens to work in America and strive toward becoming citizens, it is important to remain vigilant of just how they are being used. Bernie also cares deeply about the workers who are coming to the United States with visas and supports regulation to curb exploitation of these workers.
What are U.S. visas?
U.S. visas are required for citizens of foreign countries who desire to visit or work in the United States. There are two types of visas: nonimmigrant visas, for traveling to the United States on a temporary basis, and immigrant visas, for traveling to permanently live in the United States.
What concerns does Bernie have about visas?
Proponents of new visa policies advocate that the visa program will attract and retain the "best and brightest" immigrants in the Science, Technology, Engineering, and Math (STEM) fields, with the goal of providing them with permanent residency. However, data has shown that the top ten users of the H-1B guest worker program are all offshore outsourcing firms. As Bernie pointed out, "these firms are responsible for shipping large numbers of American information technology jobs to India and other countries."
In an editorial from the Washington Post, Bernie wrote that he does not support "under the guise of immigrant reform, a process pushed by large corporations which results in more unemployment and lower wages for American workers." While he understands that in agriculture and STEM, foreign labor is needed, he believes that with the way things are currently run "this is a massive effort to attract cheap labor, a great disservice to American workers."
How has Bernie supported visa reform?
Bernie voted for the Border Security, Economic Opportunity, and Immigration Modernization Act of 2013, Congress' latest attempt at comprehensive immigration reform. Not only did this bill provide a path to citizenship for undocumented immigrants, it also proposed changes to the H-1B visa program, increasing the cap to 110,000-180,000 per year (up from 65,000) and balancing the needs for high-skilled foreign workers while at the same protecting the American workforce. The bill also proposed a new visa for entrepreneurs, a W visa for lower-skilled workers, and additional visas and Green Cards for students who have STEM degrees from U.S. colleges and universities.
Bernie also supported the H-1B and L-1 Visa Reform Act of 2013, which would increase the number of these types of visas available from 65,000 to 110,000.
Border Security
Bernie believes that border security is an important aspect of immigration law and reform, but does not support stronger measures to increase it and does not think border security should be connected to a border fence.
What is border security and why's it important?
Border security or border control are the measures put in place by a country to monitor or regulate its borders. Border control, according to the Department of Homeland Security, protects the United States from "any illegal movement of weapons, drugs, contraband, and people, while promoting lawful entry and exit" in the country's best interests.
What are Bernie's views on securing the border?
Bernie sees the importance of securing the border, but is opposed to building a fence to do so, and has voted repeatedly against legislation that would build such a barrier. Bernie has supported legislation which would have increased border patrol operations while simultaneously providing a path to legal status for undocumented immigrants. Bernie does not support an "open borders policy," preferring to focus on a path to citizenship for immigrants already in the United States.
But shouldn't we be securing our border?
The idea that we have hoards of undocumented immigrants pouring across the border is a myth propagated by racist, right-wing media and political actors.
These two graphics from the PEW Research Center show this very clearly: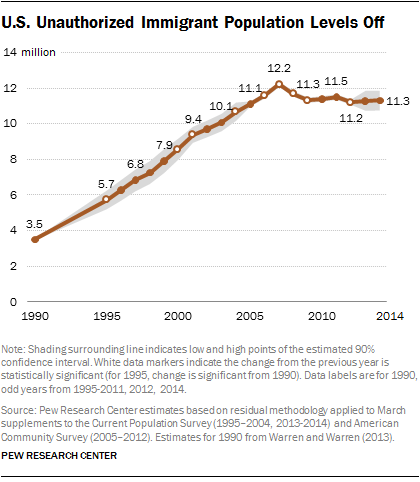 How has Bernie voted in terms of border security legislation?