Bernie Sanders on Latino Rights
Bernie Sanders sees Latinos as fundamental members of American society, and is aware of the unique challenges facing their community. In particular, Bernie is concerned with discrimination against them, ensuring fair compensation for work, and addressing the root causes of income inequality and high unemployment among many Latinos.
Agricultural Labor: Bernie believes farmworkers — most of whom are Latino — are the backbone of U.S. agriculture, and conditions and pay for these workers must be improved.
Addressing Racism: Racism is a structural problem Bernie feels must be addressed by fixing systemic inequalities in American society. Bernie has always voted against discriminatory legislation.
Economic Inequality: America needs to end the broken economic policies that have created historic levels of inequality, disproportionately affecting people of color.
Youth Labor: Bernie believes that youth unemployment and underemployment for all Latinos needs to change, and has proposed legislation that would put more people to work.
Education: A proponent of economic empowerment through access to education, Bernie introduced legislation to eliminate tuition at all four-year public colleges and universities. He also supports affirmative action policies that increase diversity and equality on college campuses.
Immigration: In Bernie's opinion, the United States is a nation of immigrants, and our immigration system must be reformed to reflect this heritage while protecting American workers.
Agricultural Labor
Hired farm workers are one of the most economically disadvantaged groups in the United States. Bernie believes that farm workers should receive consistent and fair pay for their work, and not be subject to hazardous or dangerous conditions.
Wait. I thought this page was about Latino rights. Why are we talking about agricultural labor?
Because Latinos make up a large majority of the agriculture labor workforce. While hired farmworkers make up less than one percent of the wage and salary workers in America, a striking 76 percent of all farmworkers identity as Latino or Hispanic.
Despite making up less than one percent of the national workforce, farmworkers play an essential role in U.S. agriculture. Without farmworkers, our food supply would grind to a halt. You need to eat, don't you?
Fair enough. Are agricultural workers really subject to terrible conditions?
Yes. According to the U.S. Department of Agriculture, "[h]ired farmworkers continue to be one of the most economically disadvantaged groups in the United States."
The non-profit, Farmworker Justice, describes some abuses agricultural laborers are subjected to:
"Farmworkers frequently encounter abusive labor practices at the hands of unscrupulous employers. Workers all too often labor for employers who skirt the minimum wage laws or practice other forms of wage theft, work under unhealthy or dangerous conditions, or are made to live in grossly substandard housing."
Indeed, the Southern Poverty Law Center reports that "[m]igrant tomato workers are among the poorest and most abused workers in the country," while the National Farm Worker Ministry has compiled research showing that agricultural laborers work under extremely hazardous and unsanitary working conditions.
There have been some horror stories that have gone public, too. For instance, in 2007, tomato farmworkers in Immokalee, Fla. were found working in inhumane working conditions described as "agricultural slavery," including being locked in a van at night and suffering repeated beatings. These laborers were being paid $0.45 for every thirty-two pounds of tomatoes they could harvest.
Did Bernie do anything about the "agriculture slavery" discovered at this Florida tomato farm?
Following revelations about the conditions in Florida, Bernie visited Immokalee to learn from the farm workers their experience first-hand. In a Huffington Post article, Bernie described his visit and expressed his deep concern:
"In an era of globalization, the American people are becoming more and more concerned not only about the quality of goods they consume, but about the conditions facing those who produce those goods. In my view, the American consumer does not want the tomatoes they eat to be picked by workers who are grossly mistreated, underpaid, and in some case even kept in chains. This must not happen in the United States of America in 2008."
In a Senate hearing that year, Bernie lamented that what he saw in Immokalee was the "bottom in the race to the bottom" of poverty. Here's a video of a press conference he gave immediately after his visit to Immokalee:
Bernie supported wage increases for Immokalee laborers by pressuring the Tomato Growers Exchange and the brands they work with — such as Yum! Brands, McDonald's and Burger King — to increase their wages. In large part due to Bernie's intervention, Burger King agreed to double its employees' wages. In 2010, Bernie celebrated the passage of a "historic agreement" that increased pay for farmworkers in Florida's tomato industry.
Addressing Racism
Bernie has spoken out against racism in all its forms, and is particularly keen on eradicating institutional racism. In July 2015, Bernie spoke about the need to "to simultaneously address the structural and institutional racism which exists in this country."
How does racism affect Latinos?
With 53 million living in the United States, Latinos are the largest minority group in the country, and the second most-discriminated against group after blacks. According to a 2010 survey by the Pew Research Center, 23 percent of Latinos reported experiencing a lot of discrimination, compared to ten percent of whites.
What is Bernie's stance on racism?
Bernie recognizes that "…tragically, racism is alive and well in America," and strongly believes that racism must be eradicated, particularly at the governmental level by hitting at the root causes of systemic racism. In July 2015, Bernie spoke about how economic inequality is disproportionately affecting minorities.
What's his voting record on issues related to discrimination against Latinos?
Bernie voted in 2007 against legislation that would have declared English the official language of the U.S. government, so as to enable government materials to still be available in Spanish and other languages. Relatedly, in 2008 Bernie voted against a bill that would have removed funding from programs that would support people who had been let go from their jobs by employers who used their lack of English proficiency as an excuse.
In 2014, the American Civil Liberties Union (ACLU) gave Bernie a 100 percent rating, indicating a perfect pro-civil rights voting record.
Economic Inequality
Bernie believes the minimum wage should be raised in order to support a robust middle class and a thriving economy. Current U.S. economic policies which favor corporations and billionaires have led to starvation wages for working Americans.
What are income and wealth inequality?
Income inequality refers to how unequally income is distributed across a population. It exists when a small portion of people own much more wealth than a large number of people. Wealth inequality is the same, except it's when wealth — everything you own — is distributed unequally in a given society.
What is economic inequality like in America right now?
Right now, one percent of America has 40 percent of the nation's wealth, while 80 percent of Americans only have 7 percent of the wealth between them. Other research has shown that income inequality today may be worse than it was in 1774. With regards to income inequality, here's a video visually showing how extremely unequal income distribution is among Americans:
Does income and wealth inequality affect all races equally?
No. With regard to both income and wealth, Latinos are disproportionately disadvantaged compared to their white peers.
According to a 2012 Bureau of Labor Statistics report, both Latino men and women had the smallest wages compared to their same-gender counterparts of every other major racial group. Further, the gender wage gap is greater for Latina women than their female white counterparts. (Learn more about where Bernie stands in regards to gender and racial wage gaps.)
The situation is similarly grim when it comes to wealth. In 2013, the wealth of white households grew to be 10.3 times greater than the wealth of Latino households.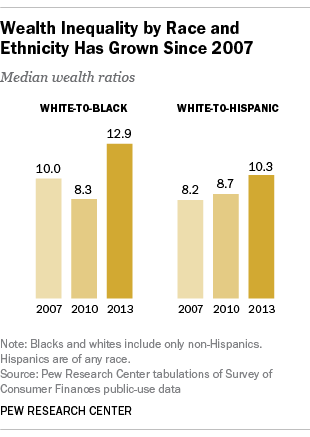 This is pretty upsetting — and concerning.
No kidding. Latinos rank the economy and education (which eases access to jobs) above immigration, in terms of issues important to them: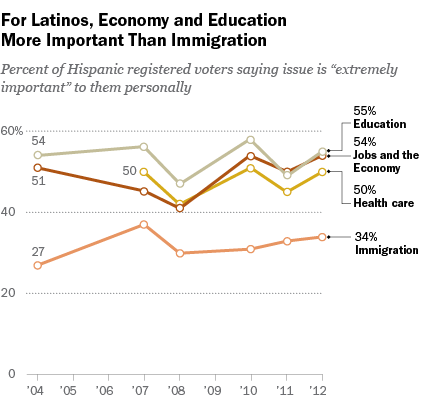 Doesn't the minimum wage ensure all workers earn enough to get by?
The federal minimum wage has been $7.25 an hour since 2009. The minimum wage, overtime pay, and other wage-related platforms are enforced by the Department of Labor, a federal agency. Bernie regards today's federal minimum wage as a "starvation wage", and proposes raising the minimum wage to $15 an hour.
What's Bernie going to do about all this economic inequality?
The most important thing for Bernie is closing the pay gap between the rich and the poor by reforming the root causes of income inequality. Specifically he wants to more fairly tax the very top income bracket, close loopholes and tax havens corporations exploit to avoid paying taxes, and more closely-regulate and thoughtfully tax financial institutions.
Bernie strongly supports raising the federal minimum wage to $15 an hour over the next several years, making it a major plank of his presidential campaign. On the importance of raising the minimum wage, he says:
"All over this country you have people working 40, 50 hours a week. They're not able to feed their families. This has got to change."
Learn more about Bernie's stance on the minimum wage and economic inequality.
Youth Labor
Bernie believes that youth unemployment and underemployment for minorities needs to change, and has proposed legislation that would put more young people and others to work.
What is the state of Latino employment?
Not encouraging. Among Latino youth in 2014, the unemployment rate was 16.5 percent. Young Latino underemployment was at 36.1 percent. These figures indicate that many high school graduates either want a job or have a job that doesn't provide the hours they need.
While broader Latino unemployment is not higher than average, data shows that over 6 million Latino children were living in poverty in 2010, speaking to general economic distress among Latino families and adults.
What's Bernie record in addressing unemployment among young Latinos?
Bernie recognizes the need to address youth unemployment and underemployment among America's youth, which disproportionately affect people of color:
"We cannot continue to ignore the crisis of youth unemployment in America. We are talking about the future of an entire generation. We have got to make sure that young people…all over this country have the opportunity to earn a paycheck and to make it into the middle class."
In June 2015, Bernie introduced the Employ Young Americans Now Act to provide $5.5 billion to put 1 million young Americans to work. Of the $5.5 billion, $4 billion in grants would be used to provide summer and year-round employment opportunities for low-income youth.
Learn more about how Bernie intends to address issues affecting working Americans.
Education
Bernie believes the United States should provide free college education via public institutions. In fact, he introduced legislation to this end in May 2014. In addition, he supports affirmative action policies that strengthen diversity on college campuses across America.
What is the state of Latinos and education?
Latinos had the highest dropout rate in 2011 at 17 percent among students aged 16 through 24. Moreover, fewer than 30 percent of Latino students graduated from high school, and fewer than 4 percent earned advanced college degrees.
That's not good. What has Bernie done to address the situation?
In 2006, Bernie voted in favor of an amendment to lower student interest rates, provide for year-round Pell grants, and provide $25 million for a new graduate Hispanic Serving Institution program.
In May 2015, Bernie introduced the College for All Act, a bill which would make all community and state college free. In support of this bill, Bernie raises a simple question:
"Why do we accept a situation where hundreds of thousands of qualified people are unable to go to college because their families don't have enough money?"
In addition, Bernie received a rating of 100 percent by the NAACP, indicating a pro-affirmative action stance.
Read more about Bernie's stance on increasing access to education.
Immigration
"This country was built by immigrants," Bernie has said. As such, the United States must reform its immigration system to invite greater innovation, diversity, and economic opportunity for both American-born citizens and immigrants who want to make this country their home.
How many Latino immigrants are there in the country?
According to 2013 U.S. Census data, the largest immigrant group by far is comprised by Mexicans. Indeed, that year Mexicans comprised 28 percent of the estimated 41.3 million foreign-born in the United States. Four other Latin American countries — El Salvador, Cuba, the Dominican Republic, and Guatemala — were among the top ten countries of origin, which together make up 60 percent of America's immigrant population.
So immigration and Latino issues are closely tied.
Very. Here's another fact to support that: while Mexican immigrants accounted for 28 percent of immigrants in the United States in 2013, they comprised 52 percent of undocumented immigrants in the United States in 2012.
This indicates that Latinos would benefit more than any other group from immigration reform that addresses issues affecting undocumented immigrants. (And that majority 52 percent figure doesn't even include all the other undocumented Latino immigrants who aren't Mexican!)
What are Bernie's views on immigration generally?
Bernie believes America's current immigration system is broken and requires comprehensive reform. An important aspect of immigration reform, according to Bernie, is to establish some pathway to legal residency or citizenship for the 11 million undocumented workers living in the United States so that they need not work and live in the shadows.
While he believes that border security is important for the country, Bernie doesn't believe that a fence is the way to achieve that security. Finally, Bernie believes that our visa system must protect American jobs instead of simply allowing corporations to score cheap labor via temporary work visas.
Learn more about Bernie's record on and proposals regarding comprehensive immigration reform.